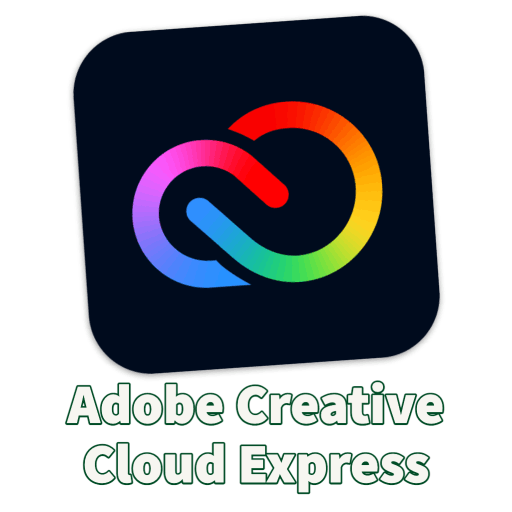 Adobe Creative Cloud Express
Last Updated:
January 24th, 2022
When hear the name Adobe, you might think of their most popular "flagship" applications like Photoshop, Illustrator, or Premiere Pro. Their suite of creative apps is known as the "Creative Cloud" and has a long list of industry-standard applications. This list now includes a free tool called "Creative Cloud Express." The "express" in this case is meant to communicate your "expressions" rather than the "speed" of the tool.
What you can you make with Creative Cloud Express? How and why would you use Creative Cloud Express in your classroom? We would like to take a moment to answer these questions and more right now...
What is Adobe Creative Cloud Express?
Anyone Can Express It...
Creative Cloud Express is a set of tools that you can use to creatively express ideas, stories, and information. Whether you are building an infographic or a lesson artifact, Creative Cloud Express will give you plenty of power to make an outstanding product. Check out this short (45 second) clip.
Meet Creative Cloud Express for Education
As if Creative Cloud Express wasn't cool enough, they offer an edition that is tailored to educational use.
Adobe says that the education tools:
Are easy to use
Are built for privacy and safety
Provide education-specific resources
Allow you to learn along with other educators
What Apps are in Creative Cloud Express for Education?
Adobe provides the creative educators and students with the ability to:
Edit Videos
Edit Photos
Produce Graphics
The apps that perform these functions are (respectively):
Premiere Rush
Photoshop Express
Express
What can you make with Creative Cloud Express?
Sometimes, a picture is worth a thousand words. Or maybe a video? Let's let Adobe show us some of the things that can be made with this tool.
Introducing Creative Cloud Express for Education
This video will help you see how Adobe Spark has now become Adobe Creative Cloud Express. You should have a pretty good idea of what you can do in your classroom with a tool like this. And you don't even need to use the creative workstation to get these projects done.
How to Get Started with Creative Cloud Express for Education
We are thrilled that you are willing to give this a shot. To get the process started, follow these steps:
Sign up - Be sure to use your school-provided Google account
Use the classroom manager to create/manage classes, students, and codes
Invite your students using the class code
Teach lessons (find ideas here)
View/Review student work (you can use Creative Cloud or an LMS like Google Classroom)
Looking for a more thorough guide?
Checkout Adobe's own Getting Started guide.
Want to Take Yourself to the Next Level?
If you enjoy learning-by-doing, Adobe has you covered here too. You can join the community and get yourself certified as an Adobe Creative Educator Level 1 (yes there are levels). We invite you to join us and earn your level 1 certification. Learn more here