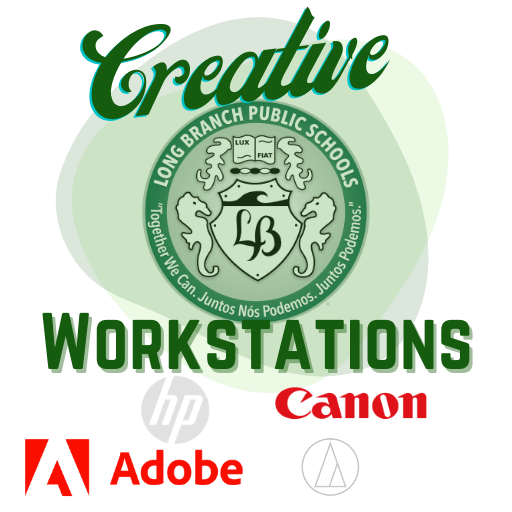 Creative Workstations
Last Updated:
January 27th, 2022
Vision & Purpose
Vision (Draft)
Inspiring creativity in both thinking and expression is an important part of education. The creative workstations offer staff the opportunity to cultivate their own creativity and in turn, the creativity of their students. We envision staff members creating rich audio/visual resources and being able to make use of the powerful hardware, software, and training that are now available to them.
Purpose (Draft)
In today's day and age, anyone can be a content creator.  However, the production of audio/visual content can require powerful hardware and software. These creative workstations are a collection of hardware and software selected specifically to provide staff with the necessary tools to produce high quality audio/visual classroom resources.
What Can You Do with a Creative Workstation?
With the creative workstations that are now available to you her at Long Branch Public Schools, what you can create for your classroom is limited only by your imagination. We know that creating rich audio/visual resources for your students can require
powerful hardware and ...
software and ...
training and support.
You now have all of the above available to you.
Introductory Training
Getting Started
If you want to get started with the basics, this training is for you. You can optionally earn a badge to demonstration your completion of this training by submitting your answers to this survey.
Looking for Help?
Head on over to our Contact page and let us know.
Check back again soon as we add samples of creative products produced by staff here at LBPS..
What's Included in a Creative Workstation?
Are you wondering exactly what you will have access to when you use a creative workstation? Good! We're glad you are excited about this opportunity too.
Hardware
HP Workstation (including 27" Full HD monitor)
Audio-Technica Podcaster Kit
Canon m50 Mirrorless camera with Rode microphone
Teleprompter (holds your cell phone)
Adjustable LED lighting
Software
Full access to all of the Adobe Creative Cloud applications which includes (but is not limited to):
Photoshop
Illustrator
InDesign
Express (Formerly Spark)
Lightroom
Premiere Pro
After Effects
Acrobat Pro
Audition